Turbo Filter For Fine Dust
Product Description
The Turbo Filter is a cyclonic dust separator that brings "bagless" air filtration technology to every vacuum cleaner at low cost. Add it to your existing vacuum cleaner and you get:
Better Suction
Improved Filtration
Longer Vacuum Life
Cleaner operation
Ease of use
Dust bags last up to 40% Longer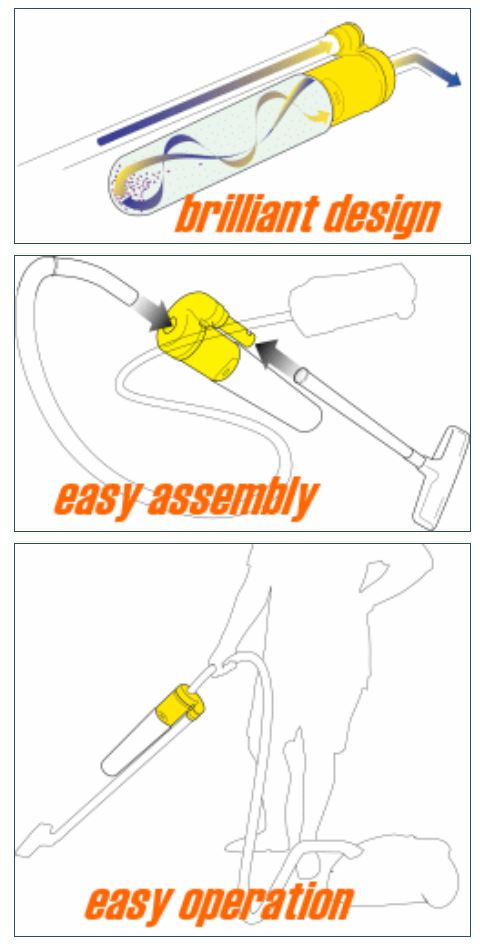 It is called "Turbo Filter" because the cyclonic action accelerates the normal vacuum airstream, like a turbine, to a much higher speed.

The Turbo Filter is very effective in capturing fine dust such as cement dust, gypsum, chalk and builder's dust. It may also help to prevent major damage to your motor caused by water being accidentally vacuumed up around water coolers and coffee machines, etc.

The powerful centrifugal forces that are created in this way then spin even the finest dust out of the airstream. Much of the powdered dust and fine particles of dirt that would normally end up in the dust bag or even in the vacuum motor are captured in the cyclonic filter. The Turbo Filter is especially effective in removing these very fine dust particles.

This product is a real breakthrough in vacuum technology. It acts as a first stage in the filtration process removing up to 90 percent of the fine dust particles from the airstream.

There are no expensive consumables like extra filter bags or filter cartridges required with the Turbo Filter. In addition, because most of the dust particles do not reach the vacuum cleaner, the normal dust bag will last much longer and remain cleaner and therefore more effective.
Turbo Filter by Cleantech. All information from Supplier.
---
Find Similar Products by Category
---
Customers Who Viewed This Product Also Viewed